Split Rock
Pleiospilos nelii
Cleft Stone, Mimicry Plant
Care
Split Rocks enjoy full sun.
"Forget what you know about watering plants with this one. I water only in the spring and early fall when the temperature starts to drop and the days get shorter. Allow the soil to dry completely between waterings (see below for info on soil). Hold back water during the hottest weeks of summer and also in the dead of winter. If the old leaves are still present at the end of summer, it may be getting too much water. If the plant rots and dies, it may be getting too much water.
IF YOU JUST TRANSPLANTED YOUR SPLIT ROCK YOU MUST WAIT A WEEK AND THEN WATER – IT DOESN'T MATTER WHAT TIME OF YEAR OR HOW MANY LEAVES IT HAS! If you don't it will just sit there and not do anything. You must encourage it to grow new roots. After the first week's watering, wait until the soil is fully dry then water again. Wait yet another week and give it a tug. If it feels established in its new home, continue to water as you normally would for that particular time of year.
IF GROWN CORRECTLY, SPLIT ROCK SUCCULENTS SHOULD ONLY EVER HAVE 1 TO 2 SETS OF LEAVES. EACH YEAR A NEW SET OF LEAVES GROWS UP THROUGH THE CENTER AND REPLACES THE ONES FROM LAST YEAR. WHEN A SPLIT ROCK HAS TOO MANY LEAVES, IT IS CALLED "STACKING".via Little Emerald Thumb"
It's crucial that they have a well draining soil without much in the way of organics.
These plants don't need fertilizer.
They flower in Spring and can flower throughout summer.
via Little Emerald Thumb
More Information
They can reach a height of 5–8 cm (2–3 in) and a diameter of about 10 cm (4 in).
It can take 5 or more years before the plant reaches maturity if growing from seed.
USDA hardiness zones 9b to 11b: from 25 °F (−3.9 °C) to 50 °F (+10 °C
Prefers temperatures between 55 and 95 F.
Prefers dry arid conditions. Humidity and wet environments can cause the plant to rot.
It is Dormant in Summer and Winter.
Non-Toxic to Humans and Animals
Actively Grows in Spring and Fall.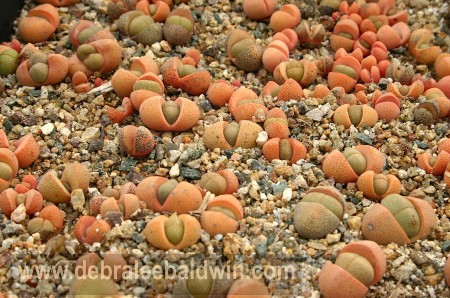 Split Rocks in the wild. via Gardening Gone Wild
Originates from South African and is currently Near Threatened due to grazing, collection, and trampling.
Propagating
Pleiospilos nelii can easily be grown from seeds. Sow seeds in the summer months. To improve the success of germination, place the seeds in a small container with lukewarm water and leave for 24 hours. This will soften the hard outer layer of the seed. Sow the seeds in a sandy medium. Cover the seeds with a 1 mm thick layer of fine sand but make sure that they are not covered too thickly. The layer of sand prevents the tiny seeds from washing away, and it is best to water with a very fine spray. Keep them damp until they start to germinate in about seven days. Once the seedlings start growing, slowly reduce the amount of water given. The seedlings grow very slowly and should be replanted once they have reached a height of about 10 mm. via SANBI.org
Split Rocks at One Year Old - via growlithops.com